Welcome to the stunning coastal paradise of Ocean City, where breathtaking ocean views and tranquil breezes beckon you to indulge in a truly unforgettable getaway. In this serene haven, hotels with balconies offer a unique opportunity to immerse yourself in nature's beauty while enjoying the comforts of luxurious accommodations. Whether you're an avid sunrise watcher or simply yearn for a peaceful retreat overlooking the majestic waves, Ocean City's hotels with verandas provide the perfect setting for both relaxation and adventure.
Imagine waking up each morning to the soothing sound of crashing waves and stepping out onto your balcony to savor a cup of coffee as the salty mist gently kisses your cheeks. From these elevated perches, visitors are treated to sweeping vistas of pristine sandy beaches that stretch as far as the eye can see. As day turns into night, watch in awe as vibrant hues paint the sky during sunset, creating a mesmerizing backdrop for romance or solitude. With an array of accommodations boasting balconies that offer panoramic views of Ocean City's natural wonders, there is no shortage of options for those seeking serenity amidst this coastal dreamland.
So whether you're planning a romantic escape, a family vacation full of fun-filled activities, or simply craving some well-deserved alone time surrounded by Mother Nature's gifts, Ocean City's hotels with balconies invite you to experience tranquility like never before. Indulge in pure bliss as you bask in breathtaking vistas from your private sanctuary above it all – an oasis where sea meets sky and dreams meet reality.
Best Ocean City Hotels with Balconies
Princess Royale Oceanfront Resort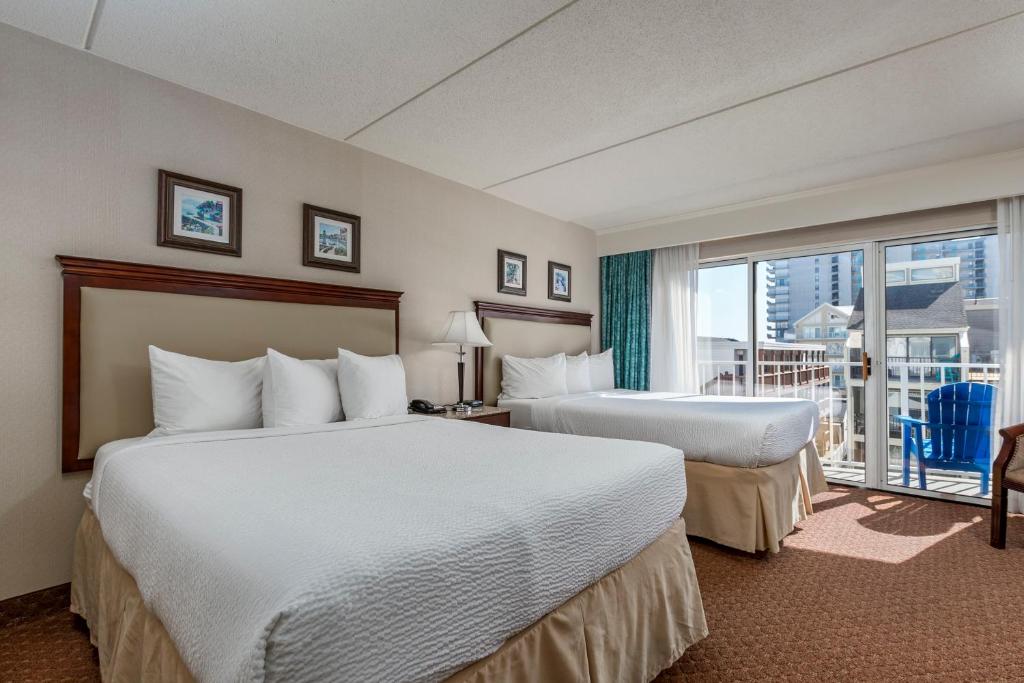 The Princess Royale Oceanfront Resort is a stunning hotel located on the shores of the Atlantic Ocean in Ocean City, Maryland. This resort offers guests a luxurious experience with its indoor Olympic-sized swimming pool situated in a beautiful 4-story tropical atrium. The hotel also boasts multiple on-site restaurants, including Schooner's Restaurant and Lounge for indoor dining and The Current for outdoor dining. Guests can enjoy light snacks and cocktails at the Tropical Tiki bar located in the Atrium. The rooms at Princess Royale Hotel are equipped with balconies that offer side views of either the ocean or the pool, as well as flat-screen TVs and well-equipped kitchens. In addition to these wonderful amenities, guests can relax on the oceanfront sundeck or visit Sandy's Beach Treasures gift shop to find unique souvenirs. For coffee lovers, Royale Roasters serves delicious Starbucks beverages and homemade baked goods. Located just a 4-minute walk from Ocean Plaza Mall and 3.7 km away from Bayside Boat Rentals, this resort provides convenient access to shopping and outdoor activities. Please note that there is a $26 processing fee collected on all cancellations.
Pros:
– Indoor Olympic-sized swimming pool
– Multiple on-site restaurants offering both indoor and outdoor dining options
– Balconies with side views of either the ocean or pool
– Convenient location near shopping centers and boat rentals
– Access to an oceanfront sundeck for relaxation
Aloft Ocean City: Guest room, 2 Queen, Sofa bed, Waterfront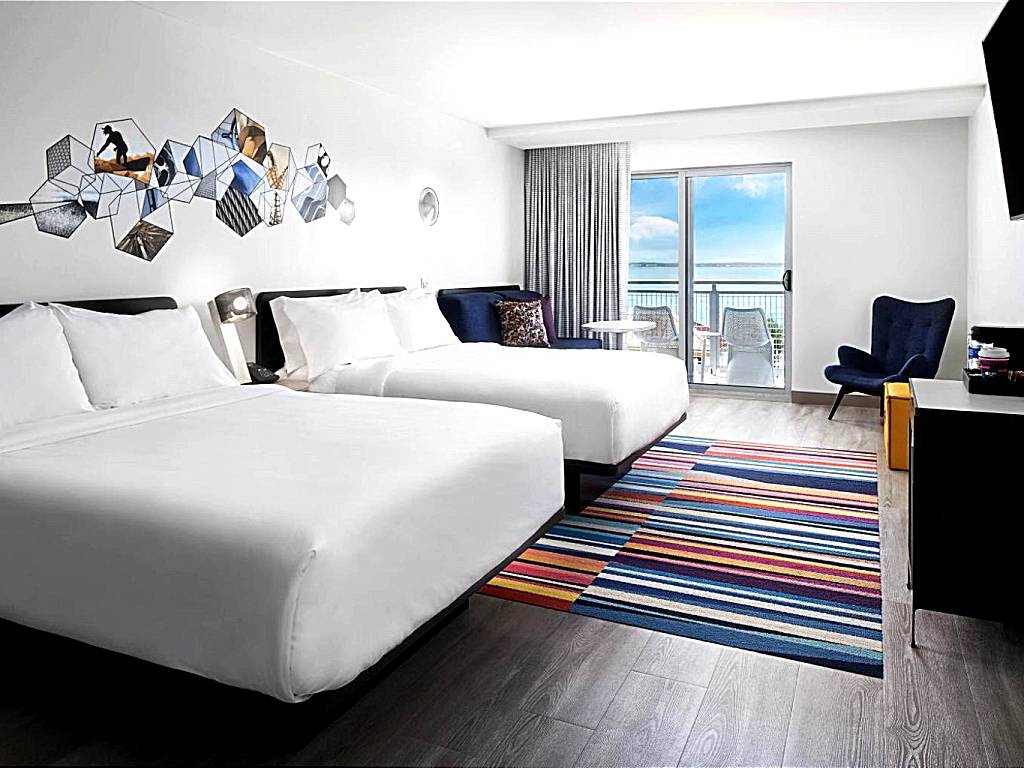 Located in Ocean City, Aloft Ocean City is a 3-star hotel that offers comfortable and modern accommodations. The spacious guest room features two queen beds and a sofa bed, making it perfect for families or groups. The room also includes a private bathroom with a shower and hairdryer, as well as amenities like air conditioning, soundproof walls, a tea/coffee maker, a safe deposit box, and a flat-screen TV with streaming services. Some rooms even have balconies that offer stunning waterfront views.
Guests at Aloft Ocean City can enjoy various facilities and services during their stay. The hotel provides free bikes for guests to explore the area and private parking for convenience. There is also a terrace where guests can relax and unwind while enjoying the beautiful surroundings. In addition, the hotel features a bar where guests can grab drinks or socialize.
Aloft Ocean City offers free WiFi access throughout the property and has a 24-hour front desk with an ATM for added convenience. The hotel also has evening entertainment options to keep guests entertained during their stay. For those traveling on business, there is a business center available.
For breakfast lovers, the hotel serves continental breakfast daily to ensure guests start their day off right. Additionally, there are billiards facilities onsite for some friendly competition.
The location of Aloft Ocean City is ideal for exploring nearby attractions. It's just 400 meters from Ocean City Beach and within walking distance of Roland E Powell Convention Center & Visitors Info Center. For those looking to visit Ocean City Boardwalk, it's only 38 km away.
Overall, Aloft Ocean City provides comfortable accommodations with great amenities such as balconies with waterfront views.. Guests will enjoy their stay in this modern hotel while being conveniently located near popular attractions.
Days Inn by Wyndham Ocean City Oceanfront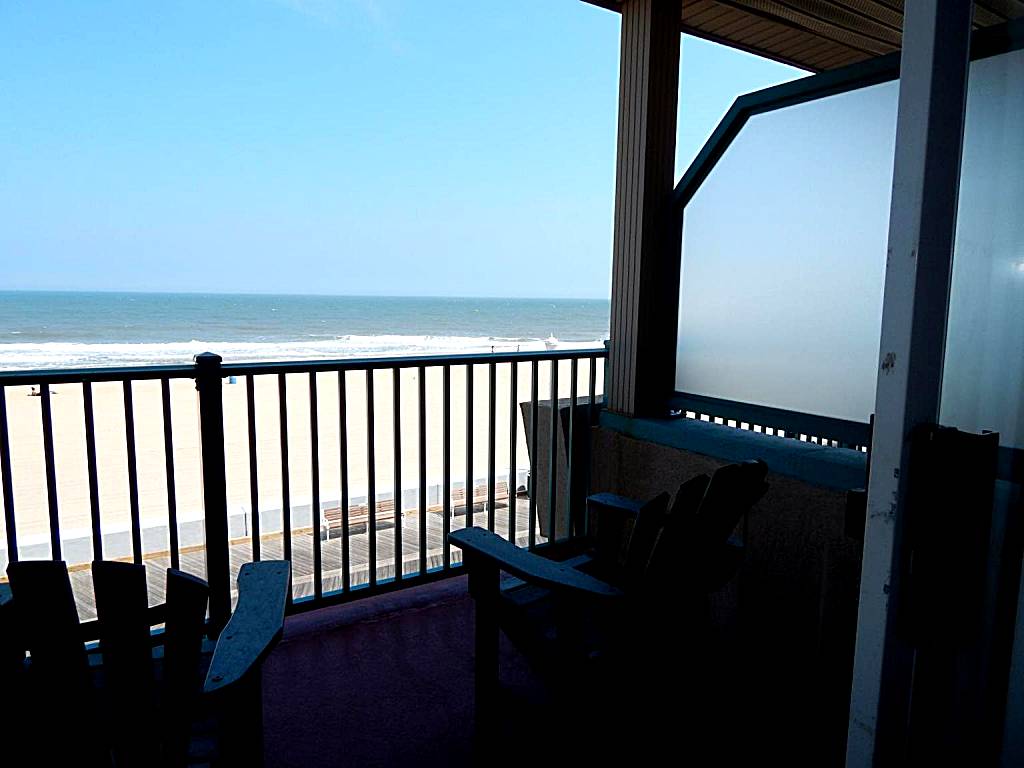 Located on the Boardwalk overlooking the Atlantic Ocean in Ocean City, Maryland, Days Inn by Wyndham Ocean City Oceanfront is a charming oceanfront property. Offering stunning pool or ocean views from the private balconies, this hotel provides an ideal getaway for beach enthusiasts. The rooms are equipped with modern amenities such as a 32-inch flat-screen TV, microwave, and small fridge to enhance guests' comfort. The onsite Anchor Restaurant serves delicious dishes including Italian and seafood options for breakfast, lunch, and dinner. Guests can also enjoy the outdoor pool and children's pool during their stay. With free WiFi throughout the property, complimentary newspapers in the lobby, and fresh coffee available to kick-start your day, Days Inn by Wyndham Ocean City Oceanfront ensures a convenient and enjoyable stay.
– Breathtaking ocean views from private balconies
– Delicious dining options at the Anchor Restaurant
– Convenient location near popular attractions like Jolly Roger Amusement Park and Assateague State Park
– Outdoor pool for relaxation and fun
– Free WiFi access throughout the hotel
Other places to stay in Ocean City
Downtown Ocean City Hotels with Balcony
Downtown Ocean City hotels with balcony offer a unique and scenic experience for travelers seeking a vibrant beach getaway. Situated in the heart of the city, these hotels provide guests with convenient access to attractions, dining, and entertainment options. The balconies overlook bustling streets or serene ocean views, allowing visitors to relax and take in the lively atmosphere below or unwind while basking in the gentle sea breeze. Whether it's sipping morning coffee amidst a colorful sunrise or enjoying a glass of wine as the sun sets over the horizon, staying at a downtown hotel with a balcony provides an intimate connection to Ocean City's vibrant energy and natural beauty.
DoubleTree by Hilton Ocean City Oceanfront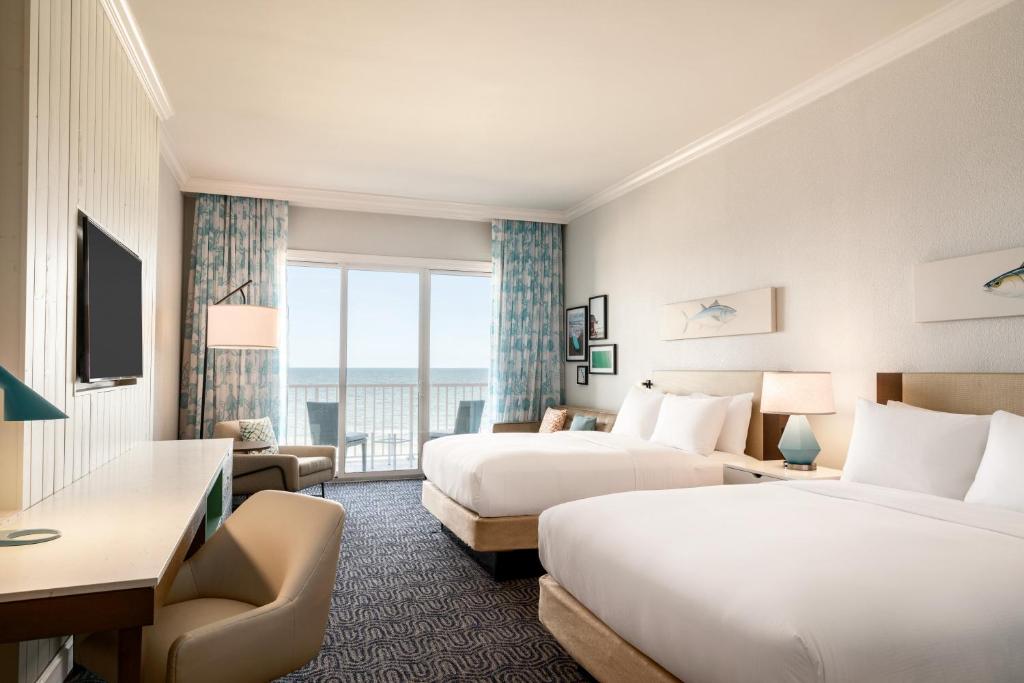 DoubleTree by Hilton Ocean City Oceanfront is a beachfront hotel located just a 10-minute walk from the popular Ocean City Boardwalk. With its prime location, guests can easily access dining and entertainment options nearby. The hotel offers both indoor and outdoor pools, including an atrium-style indoor pool. Guests can also enjoy free WiFi in their rooms, which are equipped with a 55" HDTV and a full kitchen featuring a refrigerator, microwave, and dishwasher. Each room also comes with a balcony and seating area, providing stunning views of the Atlantic Ocean for some rooms. The hotel boasts a 24-hour fitness center for guests to stay active during their stay. On-site dining options include Marlin Moon Restaurant, serving delicious breakfast dishes daily, as well as offering a fresh dining menu in the evenings. Made Market's casual café provides options for breakfast, lunch, and dinner to go or dine-in. Additionally, the DoubleTree by Hilton Ocean City Oceanfront is conveniently located just minutes away from Jolly Roger Amusement Park and only 9.4 km from Ocean City Municipal Airport.
– Indoor and outdoor pools
– Free WiFi in rooms
– Balconies with ocean views
– On-site restaurant serving breakfast and fresh dining menu
– Close proximity to popular attractions such as Jolly Roger Amusement Park
Hilton Garden Inn Ocean City Oceanfront: Queen Room with Two Queen Beds – Oceanfront (Ocean City)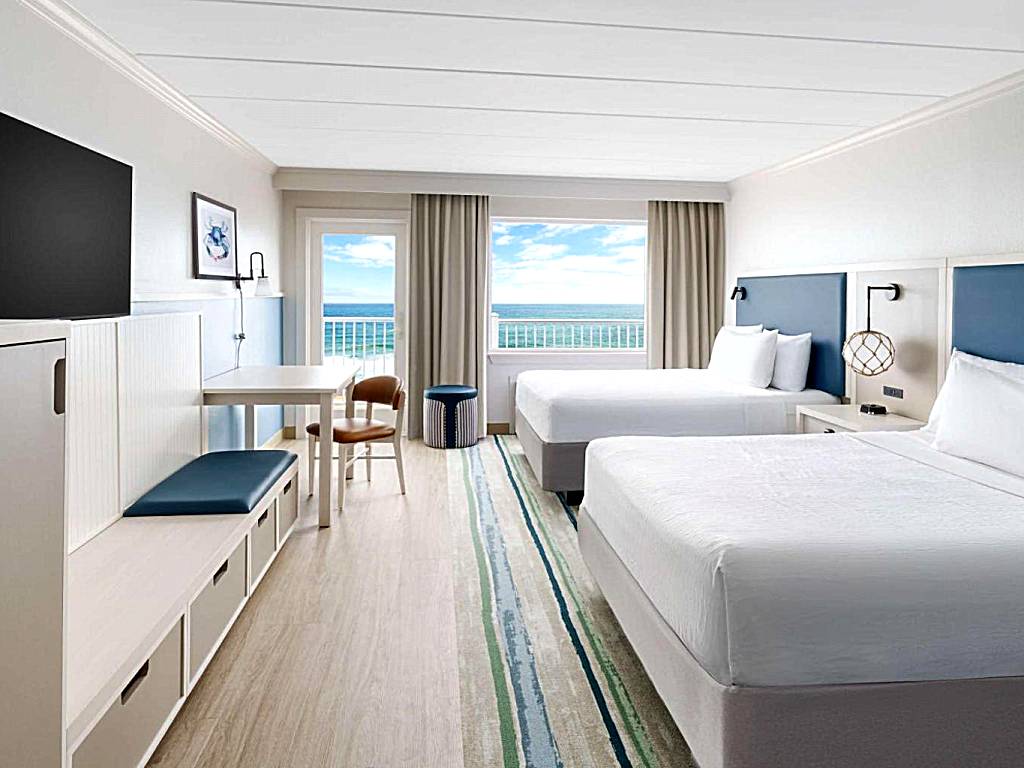 Welcome to Hilton Garden Inn Ocean City Oceanfront, located in the heart of Ocean City, Maryland. This hotel is the perfect destination for your East Coast getaway. Each Queen Room with Two Queen Beds offers a comfortable stay with two beds and an amazing balcony view. Onsite amenities include the Coastline Café & Creamery and Solstice Oceanfront Bar & Grill, where you can enjoy delicious food and drinks while taking in the ocean views. The hotel also features a well-equipped fitness center, indoor heated pool, and seasonal activities such as live music, beach yoga, and jugglers. With its prime location right on the beach and just steps from the classic boardwalk and Jolly Roger Amusement Park, this recently refreshed hotel is ideal for solo travelers, friends or families.
– Amazing balcony view
– Onsite dining options
– Well-equipped fitness center
– Indoor heated pool
– Close proximity to beach and popular attractions
Ocean City Hotels with Balcony Information
| | |
| --- | --- |
| 🛎️ Hotels with Balcony in Ocean City | 5 |
| 💰 Hotel prices starting from | $130 |
| 💵 Highest price | $1392 |
| 🥇 Average Review Score | 8.3/10 |
| 🛏️ Average number of Rooms | 115 |
FAQ
1. Are there hotels with balcony in Ocean City, United States?
Yes, there are several hotels in Ocean City that offer balconies for their guests. These balconies provide a wonderful opportunity to enjoy the stunning views of the Atlantic Ocean or the charming cityscape while relaxing in the comfort of your hotel room. Whether you prefer a luxurious beachfront resort or a cozy boutique hotel, you can find accommodations with balconies to suit your preferences and enhance your stay in Ocean City.
2. Do all hotels with balcony in Ocean City have ocean views?
While many hotels with balconies in Ocean City do offer breathtaking ocean views, not all of them guarantee this specific feature. Some hotels may have partial ocean views or may be situated where other buildings obstruct the view. It is essential to check each hotel individually to ensure that it meets your desired criteria regarding balcony features and if it offers unobstructed ocean views from its rooms' balconies.
3. Can I book a hotel room with a balcony online?
Yes, most hotels in Ocean City that have rooms with balconies offer an online booking option through their websites or through various travel booking platforms. When making an online reservation, make sure to mention your preference for a room with a balcony if available or select filters that specifically include this amenity during the booking process. However, availability may vary depending on the time of year and demand, so it is advisable to book well in advance to secure your desired accommodation.
4. Are there any extra charges for booking a room with balcony at hotels in Ocean City?
The additional charges associated with booking a room with a balcony at hotels in Ocean City can vary depending on the establishment and its specific policies. While some hotels include this feature as part of their standard room rates, others may charge an additional fee for rooms equipped with balconies due to their premium value and enhanced guest experience they provide. It is recommended to check with the hotel directly or review their booking terms and conditions to understand any additional charges before making your reservation.
5. Are there any safety precautions to consider when using a balcony at hotels in Ocean City?
While balconies offer a delightful space to enjoy the surroundings, it is important to prioritize safety while using them. Guests are advised not to lean over or sit on the ledge of the balcony, especially if it has an open design. It is also crucial to supervise children at all times when they are on the balcony and ensure they do not climb onto furniture or attempt any unsafe activities. Additionally, always make sure that balcony doors are securely closed and locked when not in use to prevent any accidents or unauthorized access.
Popular Hotels With Private Balconies destinations