Welcome to Myrtle Beach, a stunning coastal city located in the United States. If you're searching for a vacation destination that combines breathtaking ocean views with luxurious accommodations, look no further than Myrtle Beach's array of hotels with balconies. These establishments offer an unparalleled experience, allowing guests to soak up the sun, breathe in the fresh sea air, and take in panoramic vistas right from their own private balconies.
Imagine waking up to the sound of waves crashing against the shore as you step onto your balcony. Feel the gentle breeze gently brush against your skin as you sip on a cup of coffee and watch the sunrise over the horizon. Whether you prefer a cozy beachfront inn or a high-rise hotel overlooking miles of pristine coastline, Myrtle Beach has options to suit every taste and budget.
Indulge in ultimate relaxation as you lounge on comfortable outdoor furniture while enjoying picturesque sunsets or starry nights. The hotels with balconies here not only provide stunning views but also offer amenities like pool access, spa services, and direct beach access for an unforgettable vacation experience. So why wait? Pack your bags and prepare to be enchanted by all that Myrtle Beach's hotels with balconies have to offer!
Best Myrtle Beach Hotels with Balconies
Marina Inn at Grande Dunes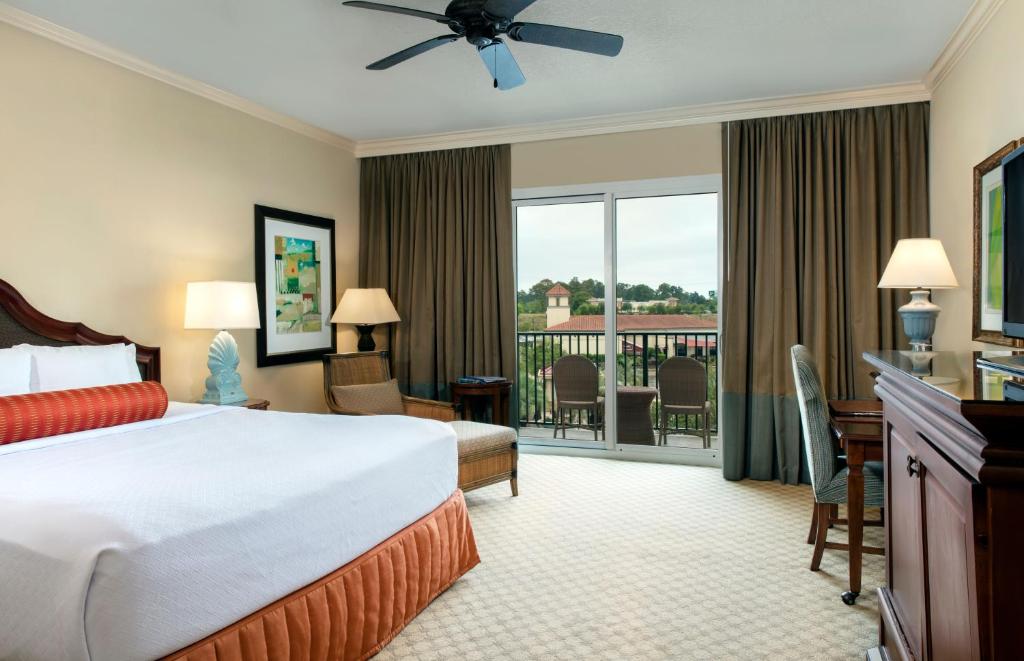 Located on the marina, the Marina Inn at Grande Dunes is situated just 1.5 miles from the beautiful shores of Myrtle Beach. This hotel offers a range of fantastic amenities including free WiFi, on-site restaurants, and even in-room spa services for ultimate relaxation. Guests can take a dip in one of the two pools, complete with a hot tub. All rooms are equipped with a flat-screen TV for entertainment and some units also boast a private balcony or terrace with stunning views. Kids can enjoy fun activities such as on-site films and shark tooth hunting at the hotel's Myrtle Beach Marina Inn location. During the summer months from June to August, guests can take advantage of the seasonal beach transfer service. Dining options at the hotel include Waterscapes which serves delicious local American fare, Reflections lobby bar where you can savor signature drinks, and Anchor Café where you can unwind while enjoying breathtaking sunset views. Located only 6 miles away from Broadway at the Beach shopping and entertainment district, this property provides easy access to all that Myrtle Beach has to offer. The city center is just a 15-minute drive away.
Pros:
– Convenient location near Myrtle Beach
– Free WiFi throughout the property
– On-site restaurants serving delicious cuisine
– Two pools with hot tub for relaxation
– Some rooms offer private balconies or terraces with beautiful views
Hilton Myrtle Beach Resort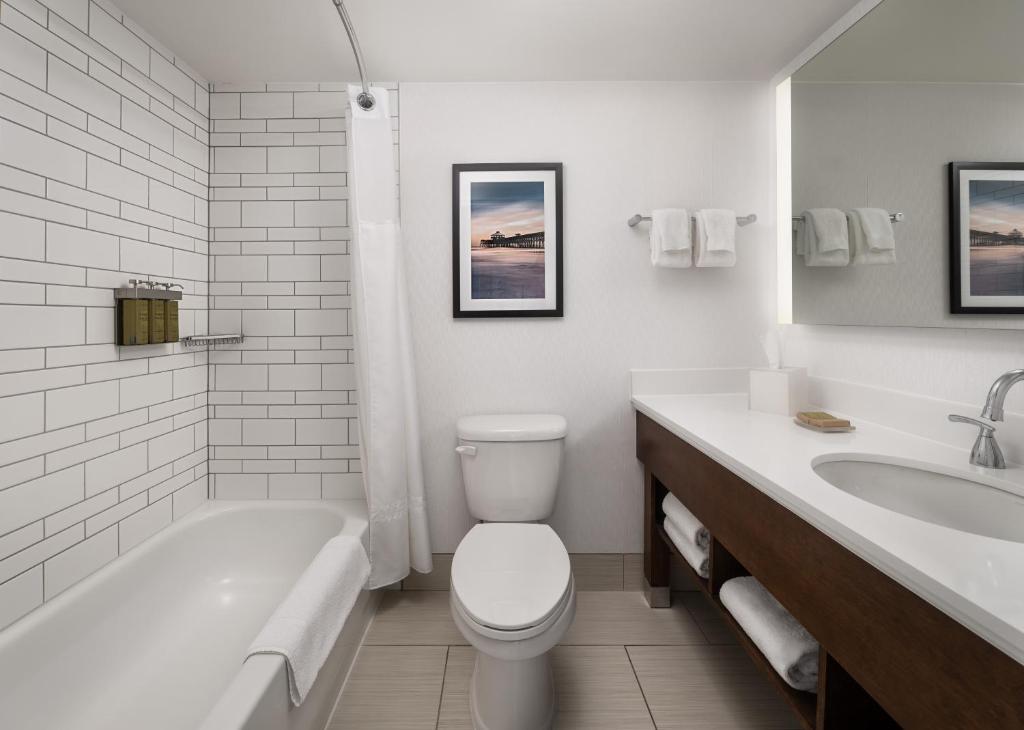 Hilton Myrtle Beach Resort is a beautiful beachfront hotel located on the shores of Myrtle Beach. Guests can enjoy a refreshing swim in the pool or relax in the hot tub. For ultimate relaxation, the on-site spa offers rejuvenating amenities such as facials and body treatments. The resort also provides a range of dining options for guests to choose from. All rooms are equipped with modern amenities including a flat-screen TV, refrigerator, and coffee maker. Additionally, each room features a private balcony, and some rooms even have sofa beds and extra living space. Fitness facilities are available for guests who wish to stay active during their stay. The resort also grants access to all facilities at the nearby Kingston Plantation. Guests can indulge in delicious poolside bites at Beachcombers or savor fine dining at Cafe Amalfi. To unwind with cocktails, there's The Veranda Bar or The Wet Whistle bar to choose from. Shopping enthusiasts will appreciate that Tanger Outlet is just a 4-minute drive away, while Broadway at the Beach is 13.2 km away from the resort. Moreover, Myrtle Beach International Airport is conveniently located within a 25-minute drive from Hilton Myrtle Beach Resort.
– Beautiful beachfront location
– On-site spa facilities for relaxing and rejuvenation
– Variety of dining options available
– Modern amenities in all rooms with private balconies
– Access to additional facilities at Kingston Plantation
Prince Resort: Two-Bedroom Suite with Ocean View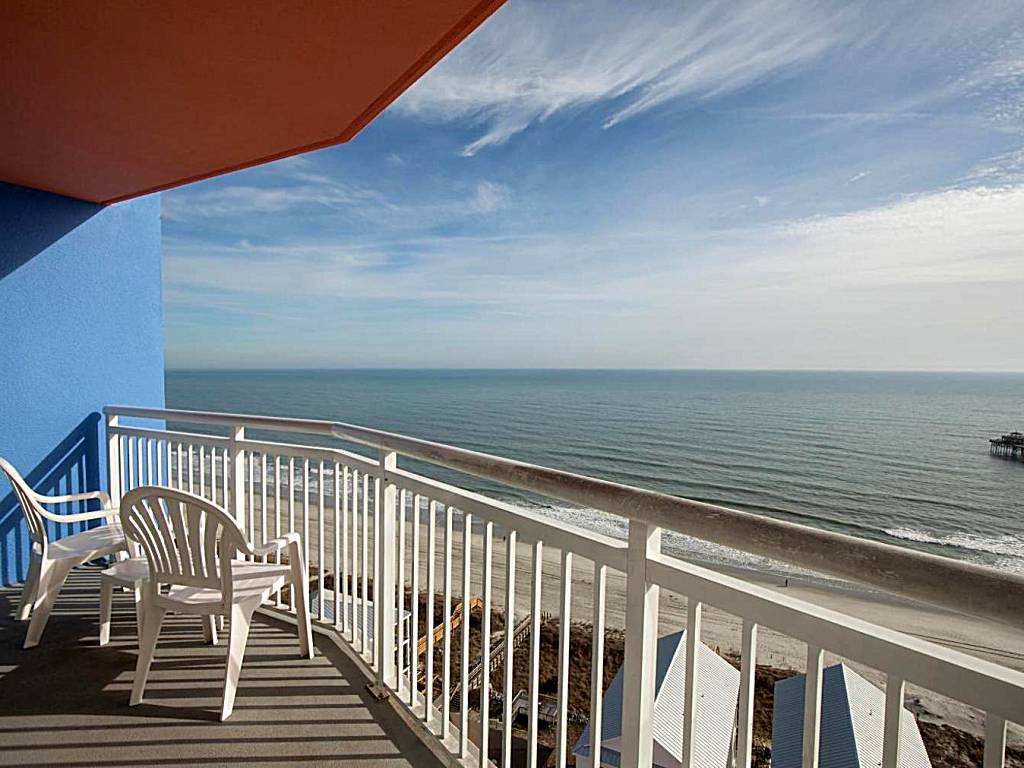 Located just steps away from the Cherry Grove Pier and a short drive from the entertainment of Myrtle Beach, Prince Resort offers a luxurious experience with its Two-Bedroom Suite with Ocean View. The property boasts stunning ocean views and relaxing facilities, ensuring a memorable stay for guests. The suite comes with free WiFi access and features floor-to-ceiling windows, allowing guests to enjoy breathtaking views of the ocean. Additionally, it includes a full kitchen equipped with appliances as well as a washer and dryer for added convenience. Other amenities include cable TV, a DVD player, and free unlimited DVD rentals. All rooms are nonsmoking, including the balconies which offer a perfect spot to take in the fresh ocean air. Guests can make use of the outdoor pools or workout in the fitness center to stay active during their stay. Afterward, they can unwind in the rooftop lazy river before heading to dinner at the oceanfront 3500 Grill. Open for breakfast and dinner, this restaurant serves up an array of fresh seafood, beef, chicken, and pork entrees.
– Stunning ocean views
– Spacious Two-Bedroom Suite
– Full kitchen equipped with appliances
– Free WiFi access
– Access to outdoor pools and fitness center
Other places to stay in Myrtle Beach
Downtown Myrtle Beach Hotels with Balcony
Downtown Myrtle Beach is a popular destination for travelers looking to enjoy the vibrant atmosphere and beautiful coastline. For those seeking a unique and immersive experience, staying at one of the many hotels with balcony options in Downtown Myrtle Beach is an excellent choice. These balconies provide guests with stunning views of the city skyline, bustling streets below, and breathtaking sunsets over the ocean. Whether you're enjoying your morning coffee or winding down after a day of exploration, these balconies offer a private retreat where guests can relax and take in the sights and sounds of this bustling beachfront city.
Marriott's OceanWatch Villas at Grande Dunes: 2 Bedroom Villa, Ocean view, Balcony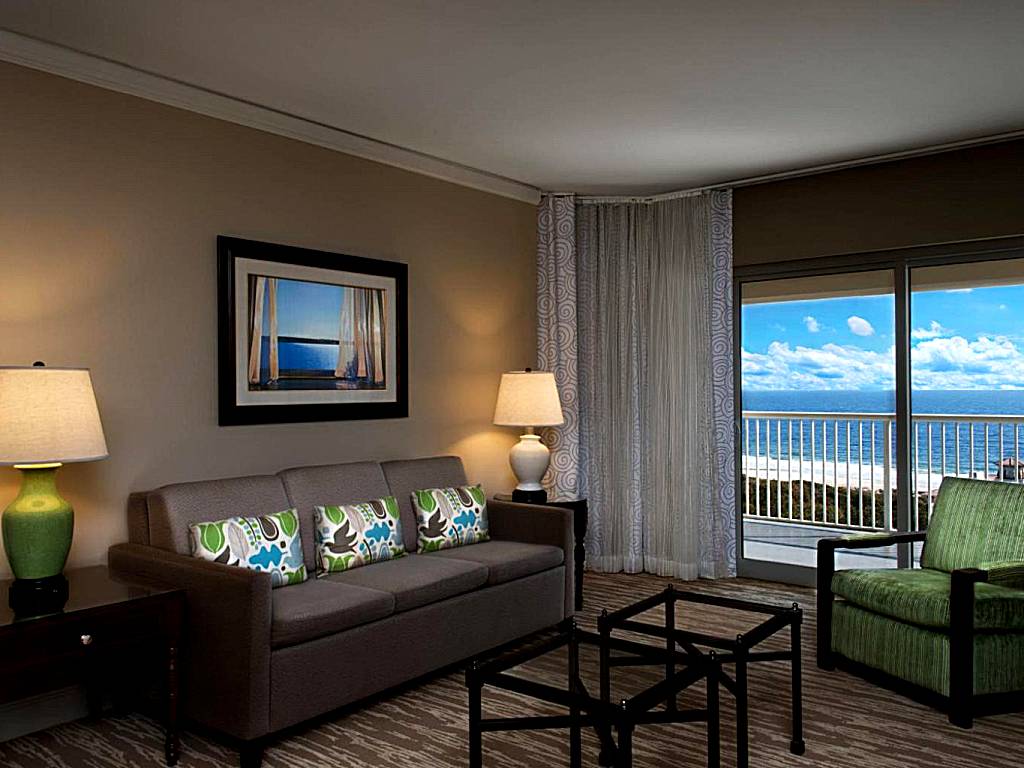 Marriott's OceanWatch Villas at Grande Dunes is a premium resort located just 12 miles from Myrtle Beach International Airport. Offering an indoor and outdoor pool, as well as a gym, this hotel provides the perfect setting for a relaxing and enjoyable stay. Each spacious villa features chic furnishings, a separate living and dining area, and a well-equipped kitchen complete with a microwave, refrigerator, dishwasher, washing machine, and dryer. Guests can unwind in the whirlpool spa or enjoy WiFi access throughout the resort. The on-site Marketplace Convenience Store and Grill serves delicious American meals for breakfast, lunch, and dinner, along with refreshing beverages, snacks, and Starbucks coffee. Additionally, this hotel is conveniently situated 5 miles from the House of Blues and 8 miles from the Nascar Speedpark racetrack.
– Spacious villas with separate living areas
– Well-equipped kitchens with modern appliances
– Indoor and outdoor pools for relaxation
– Convenient on-site dining options including Starbucks coffee
– Close proximity to popular attractions such as House of Blues and Nascar Speedpark racetrack
DoubleTree Resort by Hilton Myrtle Beach Oceanfront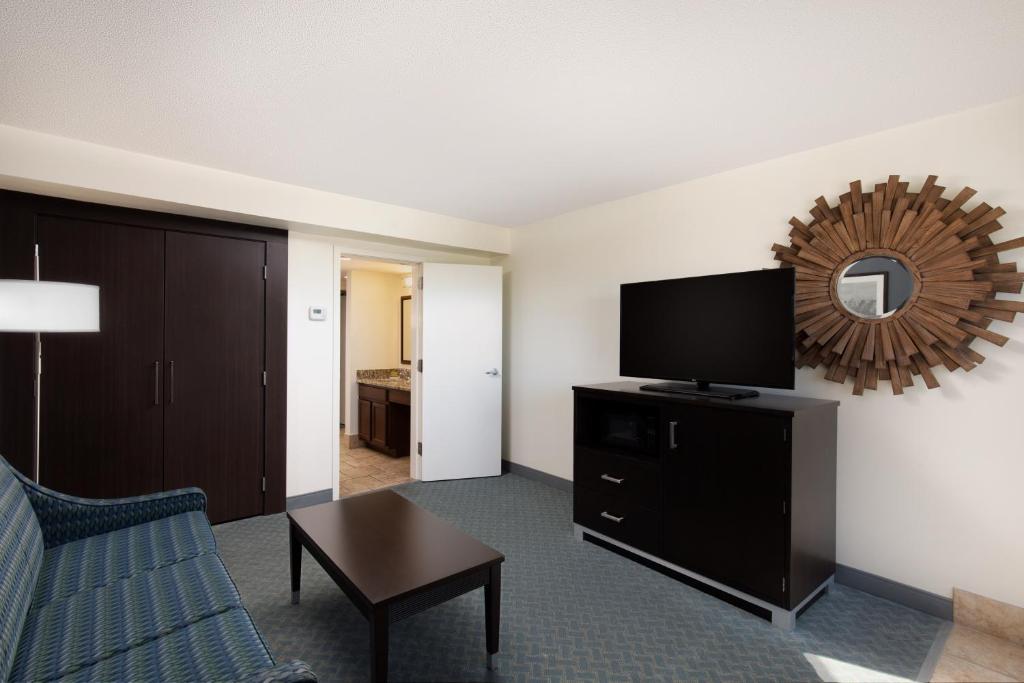 The DoubleTree Resort by Hilton Myrtle Beach Oceanfront is a stunning beachfront property that offers guests breathtaking ocean views from their private balconies. The resort boasts two lazy rivers and six pools, providing ample opportunities for relaxation and fun in the water. Guests can also enjoy an 18-hole miniature golf course on-site. The rooms are well-appointed with modern amenities such as cable TV, a microwave, mini-refrigerator, and coffee facilities. The resort offers a continental buffet breakfast as well as à la carte lunch and dinner options. Located just 1.3 km away from Myrtle Beach State Park and a short 4-minute drive from Family Kingdom Amusement Park, this resort is perfectly situated for guests to explore the area's attractions.
– Stunning ocean views from private balconies
– Two lazy rivers and six pools for relaxation and enjoyment
– On-site 18-hole miniature golf course
– Well-appointed rooms with modern amenities
– Convenient location near popular attractions
Marriott Myrtle Beach Resort & Spa at Grande Dunes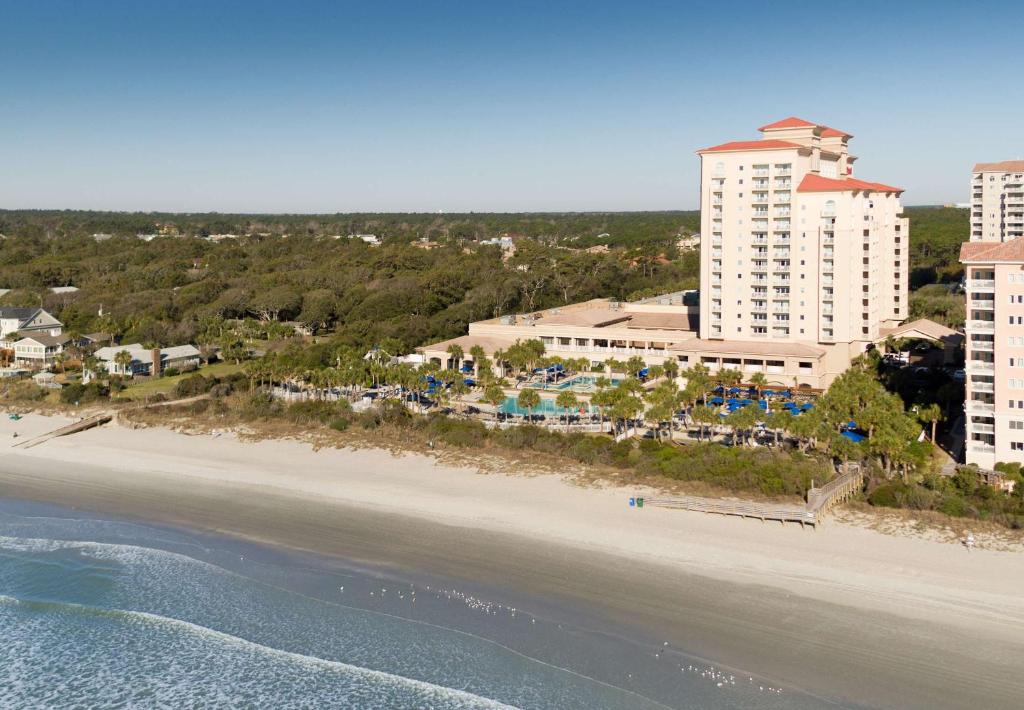 Marriott Myrtle Beach Resort & Spa at Grande Dunes is a luxurious resort located on the beautiful white sands of Myrtle Beach. The hotel offers a range of amenities for guests to enjoy, including a beachfront outdoor pool and a sauna for relaxation. Each room is equipped with a small refrigerator and coffee/tea maker, ensuring convenience for guests. Private beach access is available directly from the property, allowing guests to easily enjoy the stunning beach scenery. The hotel also provides complimentary WiFi and features flat-screen TVs with cable channels in each room. For those looking for some pampering, the Hibiscus Spa offers soothing facials and massages. In terms of recreation, there are plenty of options such as a golf course, tennis court, and fitness center available on-site. Guests can choose to dine at one of the three restaurants or grab a cocktail at The Bar within the resort itself. With its prime location, Marriott Myrtle Beach Resort & Spa at Grande Dunes is just 11.3 km away from Myrtle Waves Water Park and only 15 minutes' drive from the famous Myrtle Beach Boardwalk and Promenade. Additionally, it's conveniently situated near Myrtle Beach International Airport.
– Direct private beach access
– Complimentary WiFi
– On-site dining options
– Range of recreational activities available
– Convenient location near popular attractions
Myrtle Beach Hotels with Balcony Information
| | |
| --- | --- |
| 🛎️ Hotels with Balcony in Myrtle Beach | 6 |
| 💰 Hotel prices starting from | $264 |
| 💵 Highest price | $899 |
| 🥇 Average Review Score | 8.4/10 |
| 🛏️ Average number of Rooms | 197 |
FAQ
Can I find hotels with balconies in Myrtle Beach?
Yes, there are many hotels in Myrtle Beach that offer balconies. These balconies provide a perfect spot for guests to relax and enjoy the stunning views of the beach or cityscape. Whether you're looking for a budget-friendly hotel or a luxurious resort, you'll have plenty of options to choose from.
Are balconies in hotels in Myrtle Beach furnished?
Yes, most hotels with balconies in Myrtle Beach come furnished with chairs and tables. This allows guests to comfortably sit outside and enjoy their surroundings. Some higher-end hotels may even have additional amenities on their balconies such as loungers or hammocks, providing an extra level of relaxation.
Is it worth booking a hotel room with a balcony in Myrtle Beach?
Absolutely! Booking a hotel room with a balcony in Myrtle Beach is definitely worth it. Not only do you get to soak up the beautiful views and fresh air right from your room, but having a balcony also provides extra space to unwind and enjoy some privacy during your stay.
Do all hotels with balconies offer ocean views in Myrtle Beach?
While many hotels with balconies offer stunning ocean views, not all of them do. Some may have rooms facing towards the city or other scenic areas instead. It's always best to check with the hotel before booking if having an ocean view from your balcony is important to you.
Are there any specific safety measures taken for hotel balconies in Myrtle Beach?
Hotels take guest safety very seriously, including when it comes to their balconies. Most properties will have safety features like railings or glass barriers installed on their balconies to prevent accidents. However, it's still important for guests to exercise caution while using the balcony area and follow any guidelines provided by the hotel staff.
Popular Hotels With Balconies destinations