Welcome to the windy and vibrant city of Chicago! If you're seeking a hotel experience that offers more than just the standard amenities, then look no further than our curated selection of accommodations with verandas in this bustling metropolis. Whether you prefer breathtaking views of the iconic skyline or tranquil moments overlooking Lake Michigan, these hotels with balconies provide an elevated experience for your stay in the "Windy City".
Imagine waking up each morning to the crisp breeze gently caressing your face as you step onto your private terrace. From here, you'll be treated to panoramic vistas of Chicago's architectural wonders, including the towering Willis Tower and the unmistakable silhouette of Navy Pier. As evening falls, witness a breathtaking sunset painting the sky with hues of golden orange and purple, creating an awe-inspiring backdrop for an unforgettable night in this cosmopolitan city.
Indulge yourself with a cup of coffee or a glass of wine while lounging on comfortable outdoor furniture, immersing yourself in the rhythm and energy that defines Chicago. Whether you're visiting for business or pleasure, these handpicked hotels offer much more than just a room – they provide an exclusive retreat where you can find tranquility amidst the bustling streets below. So why settle for ordinary when you can elevate your stay with one of these exceptional hotels featuring balconies?
Best Chicago Hotels with Balconies
Park Hyatt Chicago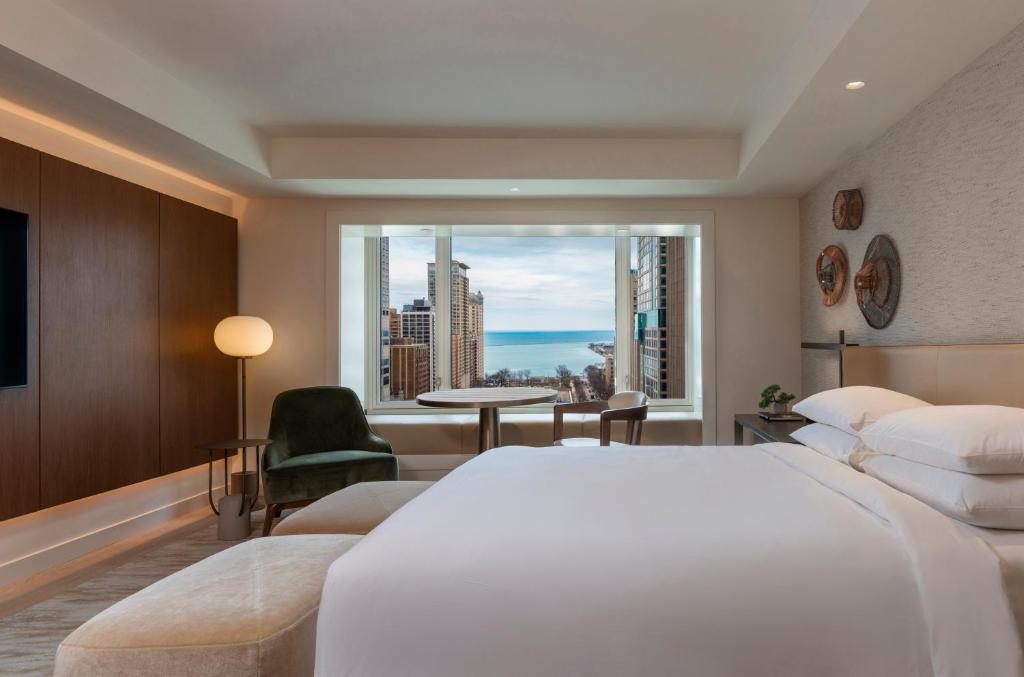 The Park Hyatt Chicago is a luxury hotel located just steps away from the historic Water Tower Park and renowned Michigan Avenue. It offers a quintessentially Chicago experience with its landmark address, making it an ideal choice for discerning global travelers seeking an authentic downtown stay. The hotel features 182 rooms with premium bedding, laptop-compatible safes, and air conditioning, providing a luxurious home away from home. The thoughtfully calming design of the hotel allows guests to enjoy sprawling views of Lake Michigan while immersing themselves in the elements of the surrounding city. Additional perks include an indoor pool and 24-hour fitness center, ensuring guests have ample opportunities to stay active during their stay. With amenities such as express checkout, a multilingual staff, and a 24-hour front desk, convenience is always at hand. The rooms also come equipped with hypo-allergenic bedding, pillowtop mattresses, down comforters, designer toiletries, deep soaking tubs, and 65-inch HDTVs with streaming services and premium channels for ultimate comfort and entertainment. Plus, guests can enjoy complimentary newspapers along with free infant beds and coffee/tea makers. Experience Chicago in style at Park Hyatt Chicago.
Pros:
– Luxury hotel with a prime location near Water Tower Park and Michigan Avenue
– Thoughtfully designed rooms offering stunning views of Lake Michigan
– Indoor pool and 24-hour fitness center for relaxation and exercise
– Convenient amenities including express checkout and multilingual staff
– Comfortable accommodations featuring premium bedding and modern technology
Waldorf Astoria Chicago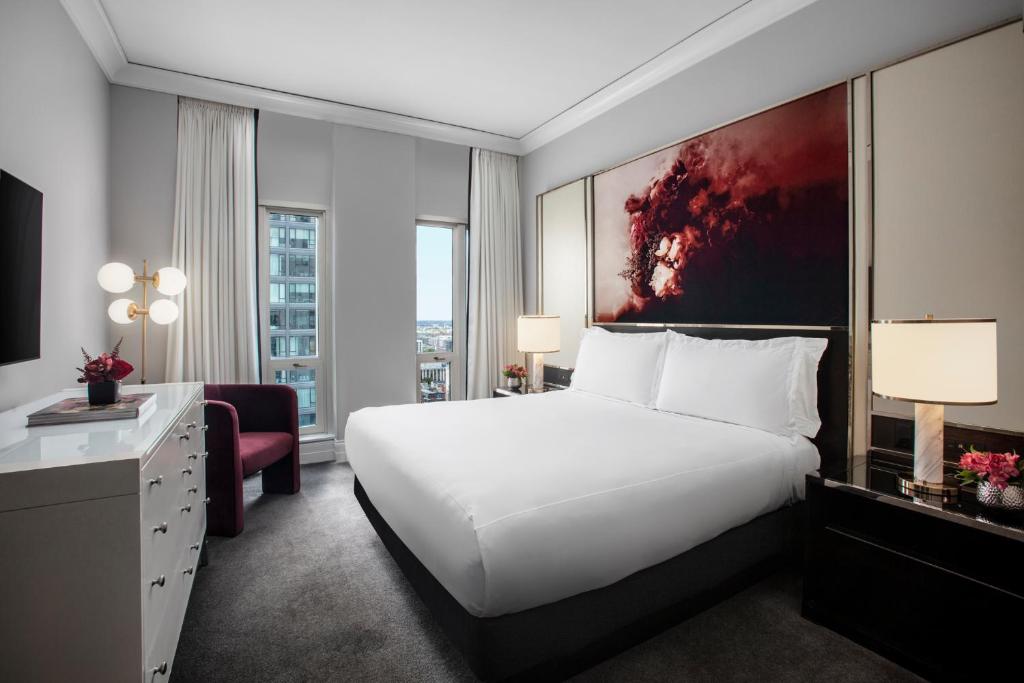 Located in Chicago's Gold Coast neighborhood, the Waldorf Astoria Chicago is a luxury hotel that offers guests an exceptional experience. With an on-site spa and wellness center, as well as a restaurant, guests can indulge in relaxation and fine dining. The hotel is conveniently located just a 5-minute walk from The Magnificent Mile, perfect for shopping enthusiasts. Each room at the Waldorf Astoria Chicago features modern amenities such as a flat-screen TV, microwave, and refrigerator. The rooms are tastefully decorated with contemporary designs and luxurious fabrics. For those looking for extra comfort, select rooms offer terraces or sofa beds. Guests can also stay active at the hotel's modern fitness center or take advantage of the indoor pool for a refreshing dip. The Brasserie is the hotel's lively American brasserie where guests can enjoy fashionable cocktails and delicious dishes in an upscale setting. In terms of nearby attractions, the Navy Pier is just 2 miles away while the Museum of Contemporary Art Chicago is within a 10-minute walk from the hotel.
Pros:
– Convenient location near shopping along The Magnificent Mile
– On-site spa and wellness center for ultimate relaxation
– Modern fitness center available for guests to stay active
– Lively atmosphere at The Brasserie with stylish cocktails and tasty dishes
– Some rooms feature terraces or sofa beds for added comfort
Home2 Suites By Hilton Chicago McCormick Place: Queen Studio – Non-Smoking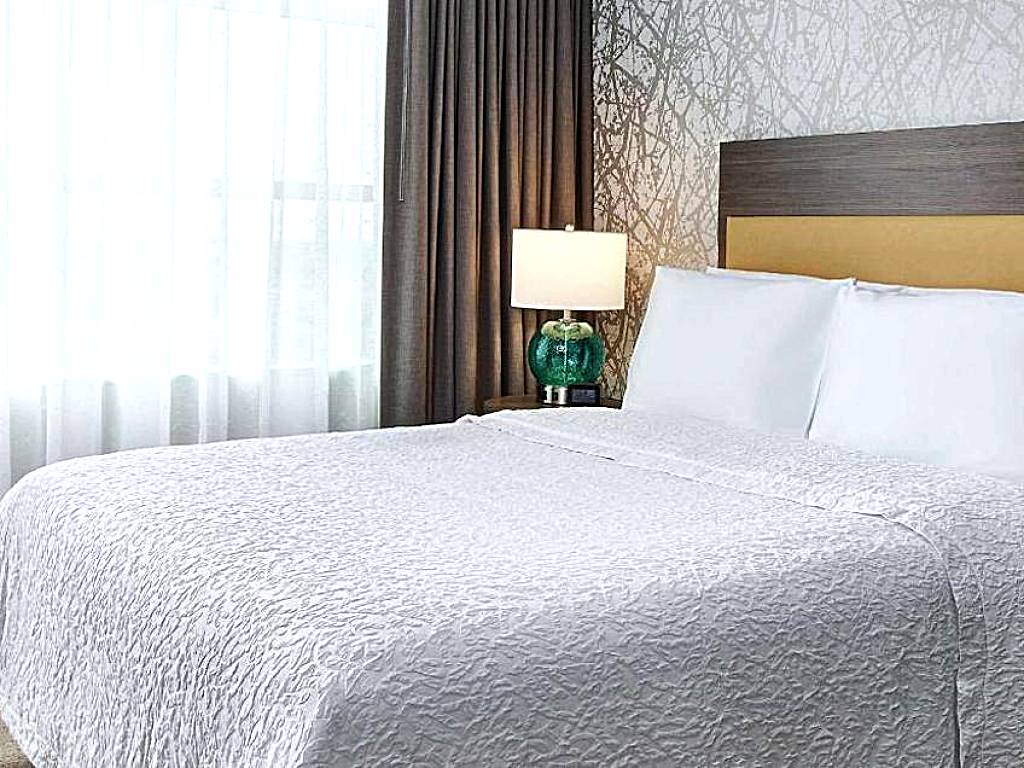 Located in Chicago, Home2 Suites By Hilton Chicago McCormick Place offers a spacious and comfortable Queen Studio room that is perfect for families. The room features a tea and coffee maker, a seating area, and a private bathroom with a bath or shower and a hairdryer. The fully equipped kitchen includes a refrigerator, dishwasher, microwave, and kitchenware. Guests can also enjoy the convenience of having a barbecue on the patio. The air-conditioned family room includes a dining area, flat-screen TV with cable channels, washing machine, and a lovely patio to relax on. With its great amenities and comfortable beds, this hotel provides everything guests need for an enjoyable stay.
– Fully equipped kitchen with refrigerator, dishwasher, microwave
– Barbecue facilities available
– Air-conditioned family room with flat-screen TV
– Washing machine included in the unit
– Patio to relax on
Other places to stay in Chicago
Downtown Chicago Hotels with Balcony
Downtown Chicago is renowned for its stunning skyline, bustling streets, and vibrant atmosphere, making it an ideal destination for travelers seeking a dynamic urban getaway. Hotels with balconies in Downtown Chicago offer visitors the opportunity to soak up the city's energy and take in breathtaking views from their private outdoor spaces. Whether enjoying a morning coffee or watching the sunset over Lake Michigan, these balcony hotels provide a unique perspective on this iconic cityscape. From high-rise luxury accommodations to boutique-style options, Downtown Chicago's balcony hotels cater to diverse tastes and budgets, ensuring an unforgettable stay in the heart of the Windy City.
Thompson Chicago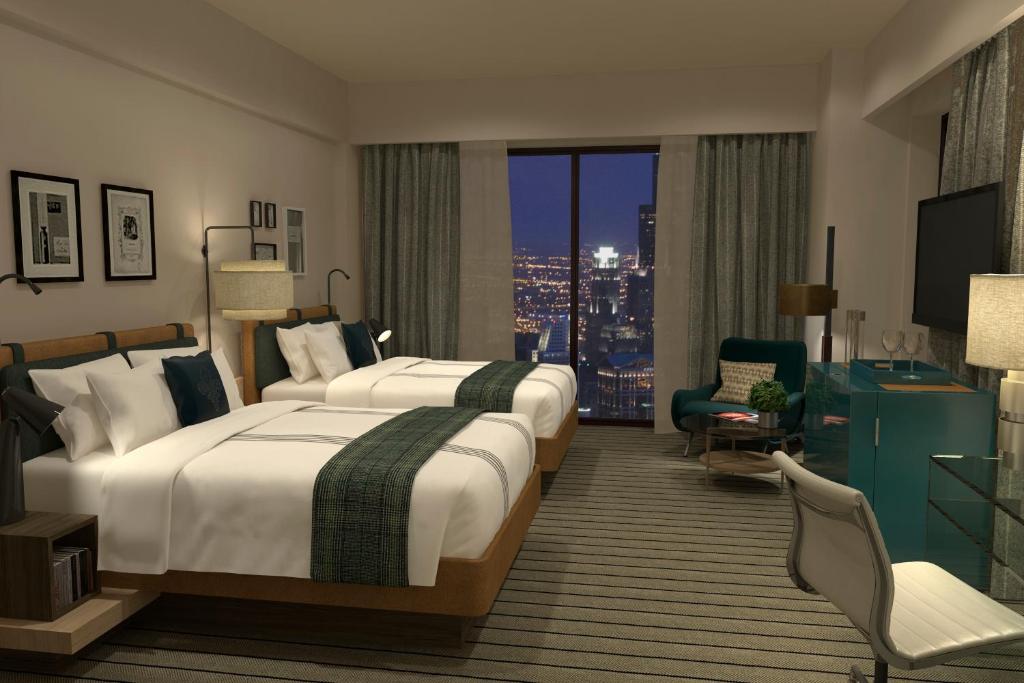 Located in the heart of Chicago city centre, Thompson Chicago is a luxurious boutique hotel that offers a memorable stay. With an on-site restaurant and complimentary property-wide WiFi access, guests can enjoy convenience and connectivity during their visit. The hotel's modern guest rooms are equipped with a flat-screen cable TV, mini bar, and luxurious amenities such as bathrobes and rain shower-heads in the bathrooms. Nico Osteria, the on-site restaurant, delights guests with handmade pastas, grilled seafood, and signature cocktails in an upscale atmosphere. In-room dining options are also available for added convenience. The hotel features a 1,000 square foot fitness centre for those looking to stay active during their stay. Additionally, its prime location allows easy access to popular attractions such as Millennium Park (1 mile away), Oak Street Beach, and the Chicago Lakefront (just a 5-minute walk away).
Pros:
– Convenient location in downtown Chicago
– On-site restaurant offering delicious cuisine
– Modern guest rooms with luxurious amenities
– Complimentary property-wide WiFi access
– Fitness centre available for guests' use
Villa D' Citta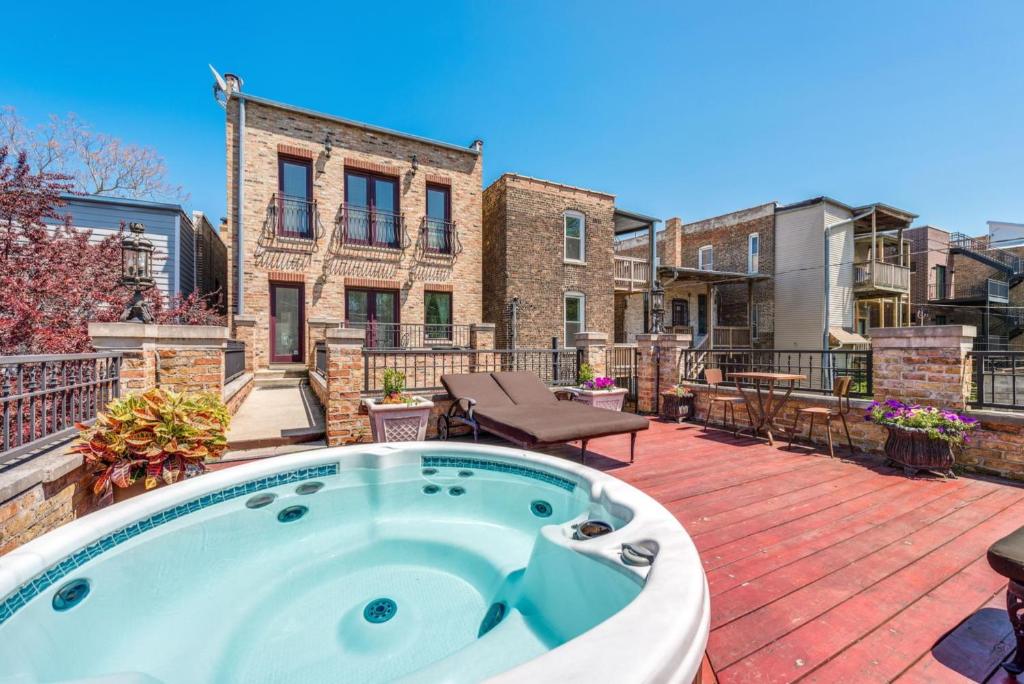 Villa D'Citta is a charming bed and breakfast located in the heart of Lincoln Park's shopping and dining district in Chicago. This modernized B&B offers a unique experience with its private grotto and garden featuring BBQ facilities. Each romantic guest room is beautifully decorated in Italian-inspired decor, offering large windows with neighborhood views. Guests can enjoy amenities such as free Wi-Fi and a flat-screen TV. The property also boasts a sun deck with a hot tub for relaxation. Villa D'Citta provides daily continental breakfast, gourmet kitchen access, and serves hot breakfast on weekends. Bicycles are available for rent on-site, allowing guests to explore the vibrant surroundings easily. Within walking distance is the famous Lincoln Park Zoo, while the renowned Magnificent Mile is just 4 miles away.
– Private grotto and garden with BBQ facilities
– Daily continental breakfast included
– Sun deck with hot tub
– Free Wi-Fi available
– Convenient location near shopping and dining options
House 5863- Chicago's Premier Bed and Breakfast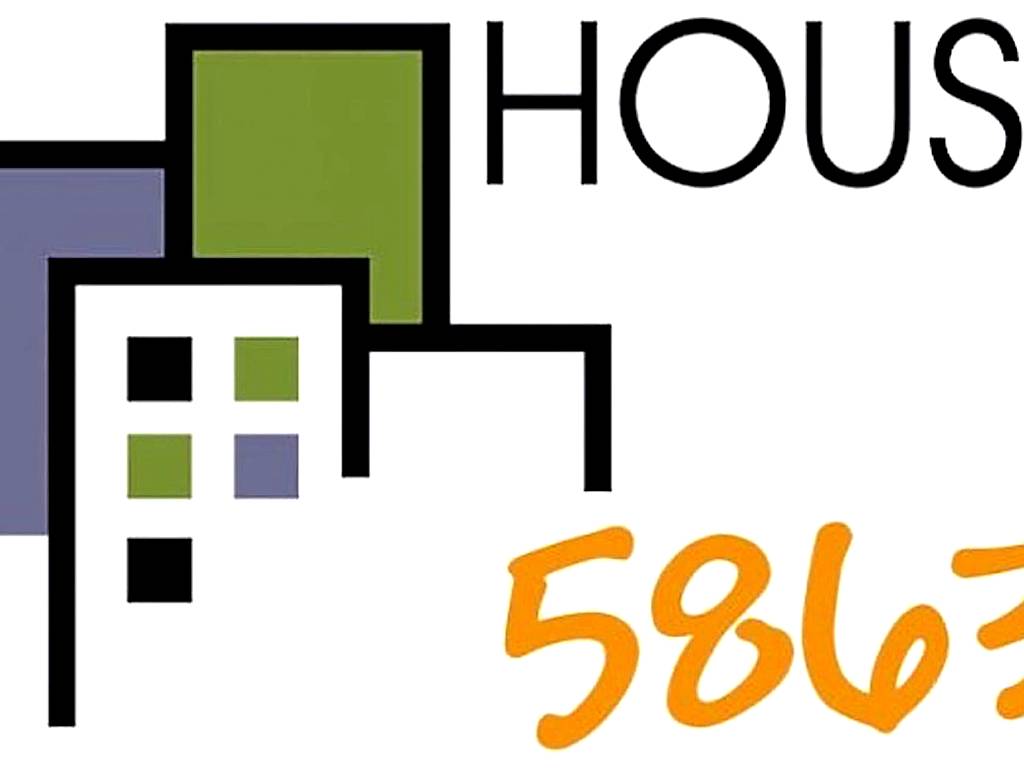 House 5863- Chicago's Premier Bed and Breakfast is a modern and urban-style accommodation located in the Andersonville neighborhood of Chicago. With its stylish décor and free WiFi access, this bed and breakfast provides guests with a comfortable stay. Each room features a flat-screen TV, seating area, and a private bathroom with a hairdryer. Guests can also enjoy the terrace with stunning views and make use of the shared kitchen equipped with an oven. The property offers additional amenities such as a garden, barbecue facilities, and a shared lounge. The shared kitchen is stocked with items for guests to enjoy a continental breakfast at their convenience. Conveniently situated, Chicago's Premier Bed and Breakfast is just 5 km away from Wrigley Field, while Lincoln Park Zoo and Depaul University are both within 8 km. For travelers flying in or out of the city, Chicago O'Hare International Airport is approximately 20 km away.
Pros:
– Modern and urban-style décor
– Free WiFi access
– Terrace with beautiful views
– Shared kitchen stocked with breakfast items
– Convenient location near popular attractions
Other places to stay in Chicago
Chicago Hotels with Private Balcony
Chicago, the vibrant and bustling city known for its stunning architecture and magnificent skyline, offers a range of hotels with private balconies that provide guests with an exclusive retreat amidst the urban landscape. These well-appointed accommodations allow visitors to soak in panoramic views of iconic landmarks, feel the invigorating breeze from Lake Michigan, or simply relax and unwind in the privacy of their own outdoor sanctuary. Whether seeking a peaceful escape or an enchanting backdrop for memorable experiences, Chicago's hotels with private balconies offer guests a unique opportunity to immerse themselves in the heart of this captivating city while enjoying ultimate comfort and tranquility.
The Chicago Hotel Collection Wrigleyville: Queen Suite with Terrace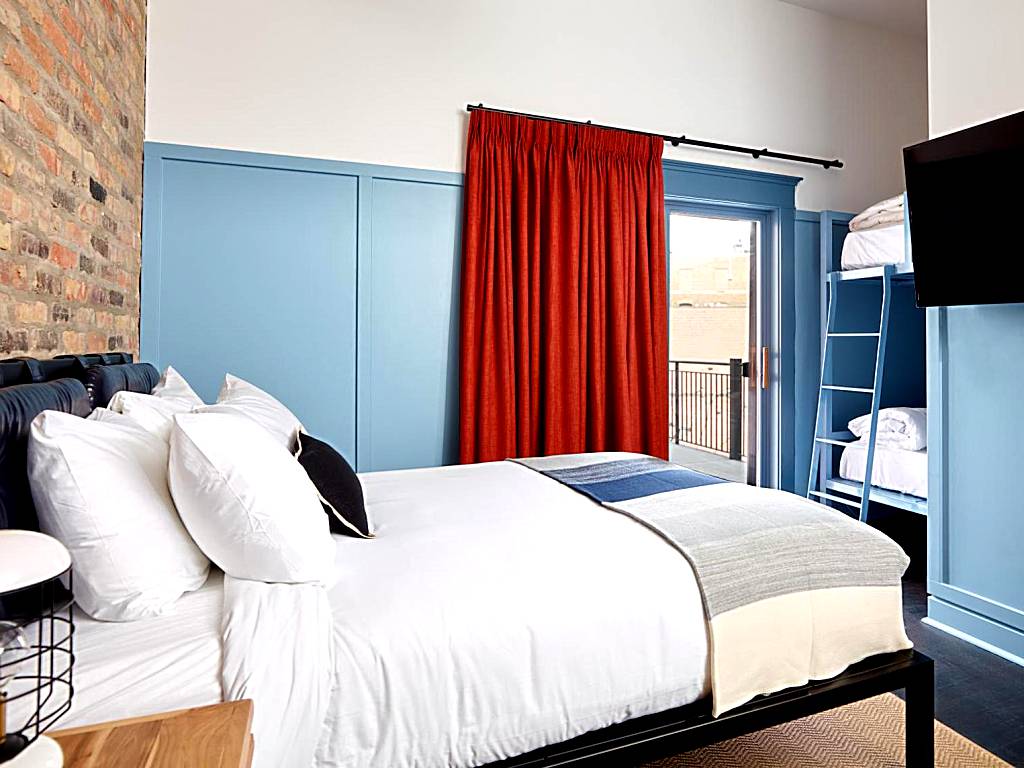 The Chicago Hotel Collection Wrigleyville offers a Queen Suite with Terrace, perfect for guests looking to enjoy stunning views of the city. The suite features a 50-inch flat-screen Smart TV, plush bathrobes, a garment steamer, and access to the hotel's rooftop. Each unit at this 4-star hotel is complete with a private bathroom equipped with a shower and free toiletries. With modern amenities like air conditioning and a flat-screen TV, the rooms also boast a terrace where guests can relax and soak in the atmosphere. The hotel provides free WiFi, a shared lounge area, and concierge service for added convenience. Located just 400 meters from Wrigley Field, this non-smoking property is an ideal choice for sports fans or those attending events at the stadium. Additionally, popular attractions such as Lincoln Park Zoo and Water Tower Chicago are within close proximity. With its convenient location and comfortable amenities like bed linen and towels provided in every room, The Chicago Hotel Collection Wrigleyville ensures an enjoyable stay for all its guests.
– Terrace offering stunning city views
– Spacious Queen Suite
– Access to rooftop
– Modern amenities including Smart TV and garment steamer
– Convenient location near Wrigley Field
Crowne Plaza – Chicago West Loop: Double Room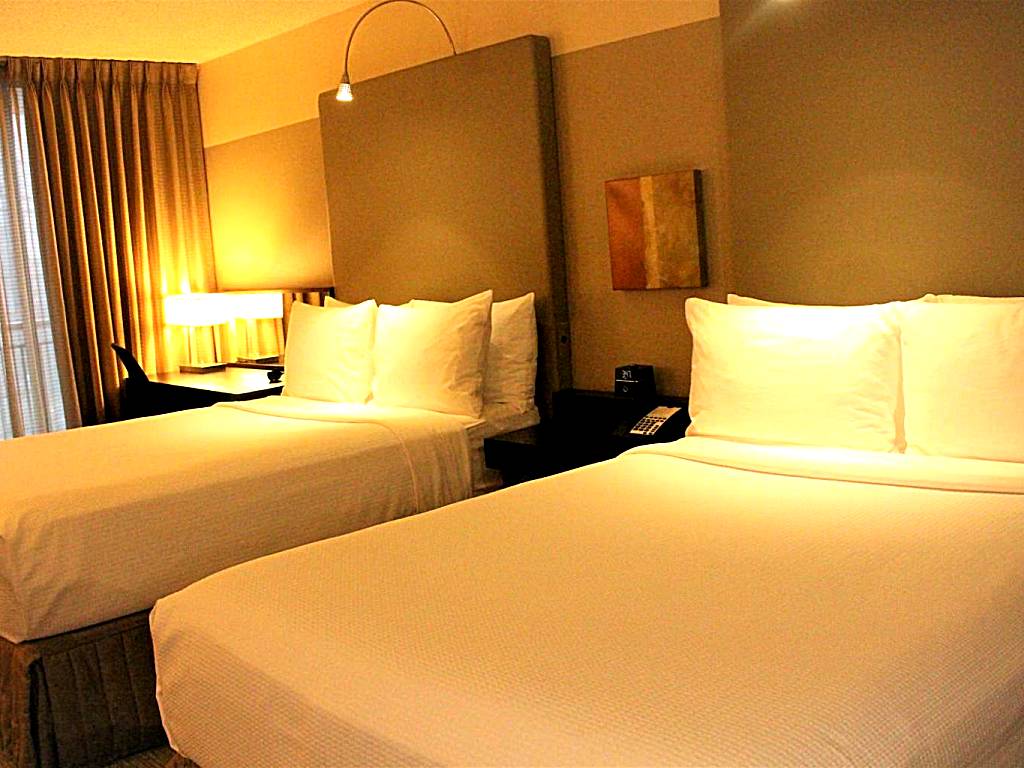 The Crowne Plaza Hotel Chicago West Loop offers convenient access to the city's attractions, including the United Center where the Chicago Bulls play. With comfortable guestrooms, on-site dining options, and a 24-hour fitness center, this hotel provides everything guests need for a comfortable stay. The spacious accommodations are equipped with large work desks and tea/coffee-making facilities. Guests can indulge in delicious American cuisine at the on-site Dine restaurant for breakfast, lunch, and dinner. The hotel is just a short L train ride away from the famous Magnificent Mile shopping area and Navy Pier. Additionally, there are plenty of charming shops, renowned restaurants, and vibrant nightlife options nearby. Union Station is also within walking distance, making it convenient for travelers arriving by rail.
Pros:
– Convenient location near United Center
– Comfortable guestrooms with large work desks
– On-site dining at Dine restaurant serving American cuisine
– Close proximity to popular shopping destinations like Magnificent Mile
– Walking distance to Union Station for easy access to rail lines
Chicago Hotels with Balcony Information
| | |
| --- | --- |
| 🛎️ Hotels with Balcony in Chicago | 8 |
| 💰 Hotel prices starting from | $187 |
| 💵 Highest price | $917 |
| 🥇 Average Review Score | 8.2/10 |
| 🛏️ Average number of Rooms | 139 |
FAQ
Can I find hotels with balconies in Chicago?
Yes, there are several hotels in Chicago that offer rooms with balconies. These balconies provide a great opportunity to enjoy the beautiful views of the city skyline or Lake Michigan while staying at your hotel. Some popular hotels with balcony options include The Langham Chicago, Trump International Hotel & Tower, and The Peninsula Chicago.
Are there any budget-friendly hotels in Chicago that have balconies?
Yes, there are some budget-friendly options available for travelers looking for hotels with balconies in Chicago. One such hotel is Hampton Inn Majestic Chicago Theatre District, which offers rooms with private balconies at an affordable price. Another option is the Freehand Chicago hostel, where you can book a private room with a balcony at a reasonable rate.
Do all hotel rooms with balconies offer a good view in Chicago?
While most hotel rooms with balconies in Chicago do offer scenic views, it's essential to check the specific location and room type when booking. Some hotels may have obstructed views due to their surroundings or nearby buildings. To ensure you get the best view possible from your balcony, consider booking a room on higher floors or opting for a hotel located near popular attractions or waterfront areas.
Can I smoke on my balcony at hotels in Chicago?
Smoking policies vary among different hotels in Chicago. While some may allow smoking on the balcony, others enforce strict non-smoking policies throughout their premises. It's important to check the individual hotel's smoking policy before booking if this is an important factor for you.
Are there any pet-friendly hotels in Chicago that have balconies?
Yes, many pet-friendly hotels in Chicago understand that pets need fresh air too! There are several accommodations that offer both pet-friendly amenities and rooms with private balconies so that both you and your furry friend can enjoy your stay comfortably together. Some examples of such pet-friendly hotels include The James Chicago, Kimpton Hotel Allegro, and The Godfrey Hotel Chicago.
Popular Hotels With Balcony destinations